Up and Coming Artists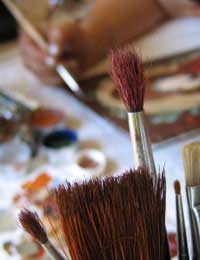 Though there are certainly artists that are beyond doubt assured considerable attention in the coming year, such the four 2006 Turner Prize nominees - Tomma Abts (winner), Phil Collins, Mark Titchner, Rebecca Warren, it otherwise difficult to draw a definitive list of up and coming artists. This is largely due to the way in which the art world has opened up within the U.K. There is now less emphasis on megastar artists than there used to be and the opening of mew fronts on the international market, makes it difficult to discern exactly where the next wave of significant artists may herald from (if, indeed, a group of artists emerge from one area, as has often happened in the past).
Art School Leavers
One way to gauge the direction of the arts scene is to take a look around graduate shows for both Masters and B.A. students. It used to be the case that major galleries, as recently as the 1980s would tell graduates to return to them several years after graduating as they wished to gauge their development as they matured in the real world before signing them up. The sudden success of the Young British Artists soon put a stop to this and many artists follow a sharp trajectory to success upon graduating. By striking up a relationship with a talented student or graduate you may be able to develop a functioning relationship to your mutual benefit. However, be wary that it is often difficult to discern which artists will continue to be productive – the years following graduation are crucial and many young artists are diverted from their interest in art as debts and pressures to conform mount up.
Developing Areas
Another way to source up and coming artists is to scout around areas that are enjoying increased investment in the arts. Such areas will undoubtedly encourage increased artistic productivity, yet may well command less high prices than, for example, London. One such area is Middlesborough, where the Middlesborough Institute of Modern Art (MIMA) opened in January 2007. With the increased interest in the arts that this brings, the colleges and studios of Middlesborough may well be worth a look. Other areas worth looking at include Gateshead and Newcastle, Birmingham, Manchester and Liverpool.
Specific Artists
In terms of investing in up and coming artists, most collectors are really looking at buying into an artist in the early stages of their career, and not an artist about to break onto the international art scene and seal their place. There are a number of websites where such artists can be found, though one should be wary about buying online: always view a work before parting with money.
It is hard to advise on specific artists, although there certainly are ones to watch. In the 'yet to achieve international recognition' bracket; Finnish artist Jaakko Mattila looks set to make waves in London after achieving recognition in his home country. Ursula Llewellyn, a Slade and Royal College graduate has recently produced an interesting body of work and exhibits regularly in Britain. If you are after a landscape, James Self, another London based painter is set to gain in popularity over the next two years, having received some press attention, which has led him to commit to painting with a new-found rigour. Artists such as these, with a history spanning several years of consistent good output are well worth checking out – for artists working in three dimensions, look towards Neil Kilby, Richard King, and Gethyn Moller. There are, undoubtedly thousands of them, and if you are prepared to do the leg work, a visit to several colleges and artists studios may well be worthwhile.
You might also like...