Hanging Art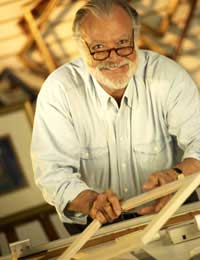 There are many ways to hang artworks, depending on the size and nature of the works. Prints, drawings and paintings will generally be framed, and the work hung from the wall by the frame.
There are several ways of hanging pictures upon the wall including the use of picture hooks attached to chains, brass mirror plates, and picture cord. It has also become fashionable in galleries to hang paper works unframed from bulldog clips nailed to the wall. Whilst this presents an interesting alternative way to display pictures and interferes relatively little with the picture itself, it is perhaps unwise, as it leaves the corners of the pictures open to damage.
To Frame or not to Frame?
The framing of an artwork serves to protect it from damage, whilst adding an additional aesthetic element. There is a school of thought, however, that argues against framing on the grounds that the frame draws attention away from the picture. This can be true in some cases and for this reason frames should be chosen carefully and, in some cases, can be avoided altogether.
In the case of prints, photographs and works on paper it is highly advisable to use a frame and to possibly have the work mounted on card, or window mounted. A good framer will be able to advise you on this.
With a painting on board or canvas it is possible to not use a frame, and this is generally preferred with modern and contemporary works of art. In this case, mirror plates or hooks can be screwed directly into the 'stretcher' (the wooden frame that holds the canvas), or onto the board (providing the board is thick enough to take a screw).
When using a frame, screws, hooks and plates will generally be applied to the frame thus preventing any unnecessary marking of the stretcher (and potential damage) through the application of screws. For this reason it is well worth considering framing if your piece is particularly old.
Practicalities of Hanging
When you are hanging, it is a good idea to take measurements in order to centre works upon a wall. If you have two works or more on a wall it is often good practice to leave an equal distance between them. A spirit level may then be used to hang the works level.
However, there are no hard and fast rules to hanging a work and factors such as light and shadow may have a major effect on how you wish to hang a piece. For this reason it is worth taking into account the fact that light conditions will be very different at night than during the day time. Think carefully when you hang your work about which conditions you wish to take into account.
Also, be aware that the walls and ceilings in many houses are not straight – accordingly the use of a spirit level will, if anything, make everything look off kilter. It is a safe bet that if something looks right to the eye, it is right; the eye never lies!
Finally, if hanging a work that is slightly bowed (if the wall has a slight bump) and you cannot get it to sit level, simply place a cork (or a portion of a cork) from a wine bottle behind an offending corner – this should balance the piece.
You might also like...
@freethie. Sounds interesting. Sorry but we are unable to recommend individual suppliers here. However a search on "art display specialists London" should bring up a range of useful contacts.
ArtCollecting
- 28-Nov-14 @ 11:10 AM
Hi We are planning to display a ceramic exhibition , this will involve hanging pieces from walls around the school , the idea is to cluster them and hang maybe 10 to 20 pieces together for each display from wires to form a cluster , the problem is weight and suitable fixings into the masonry walls , also the method of hanging , probably from stainless steel cable/wire system . We need certainty of the fixings and the hanging system and some specialist knowledge of these sort of installs Can you recommend installers to hang this type of art display Many thanks Stephen
Freethie
- 27-Nov-14 @ 9:08 AM