Building up Contacts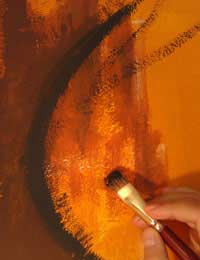 It is helpful over time to build up a network of reliable contacts if you are to start an art collection.
The following list (all of which are discussed in some depth in related articles) make a good source of contacts:
Commercial Galleries
Graduate Shows
Private Views
Meeting Artists
Visiting Artists Studios
Visiting Auction Houses
Art Fairs
A good base of contacts will enable you to source the right work relatively easily and frees you from reliance upon art dealers, agents and various other middlemen, who like any commission based salesmen, may well not be entirely sound in their motivations.
This do-it-yourself approach to collecting is a lot more effort than merely turning up at your local high-street gallery and choosing something ad-hoc to fit above your living room sofa! However, in the long run this approach may well be much more rewarding and takes a lot of the calculation out of buying art.
When you have established a group of contacts, it will be possible to source works to your specific taste relatively easily. This will be all the more so if you have a social interest in the arts: whilst being realistic, you are liable to gain much more from being an art collector if you have friends as contacts than if you view contacts as mere business associates. In art-world terms this is not such a long shot, and if you have a genuine interest in the arts, meeting with artists (at, for example, private views: see related article) should be no difficulty. From here, it is possible to take an intense interest in the development of artists relevant to your expanding collection, allowing even for the possibility for you to commission works to your specific requirements.
Expanding Contacts
Whether you wish to collect for investment purposes or for your own enjoyment making contacts is an ongoing thing. In major cities such as London, private views (which are rarely ever truly 'private') occur throughout the week and pretty much throughout the entire year too! In order to keep up with developments on the contemporary arts scene it is necessary to at least attend a few yearly, preferably one or two a month. If you are interested in older pieces of art, regular visits to auction houses and specialist galleries are advisable.
As well as making visits to galleries and dealers, contacts can be readily made through speculative enquiries to galleries both by mail and by e-mail. The internet is a rich source for finding artists, and although a graphic representation of an artwork will not give you enough information to gauge whether to buy a work or not (or, at the least, this is highly inadvisable – see related article: 'Buying over the Internet') it will at least point you in the right direction and may save you some legwork.
By establishing a group of contacts and keeping your ear close to the ground in order to spot new opportunities as they arise you will be able to greatly enhance your potential as a collector.
You might also like...
Hi We can help your website to get on first page of Google and increase the number of leads and sales you are getting from your website. Please email us back for full proposal. Best Regards Cori
Cori
- 26-Dec-15 @ 9:36 AM
Do you want to grow your business? Do you have serious, defined sales goals?Reply back to get a full proposal.
Want more customers?
- 23-Apr-14 @ 5:24 AM