The Artist and the Patron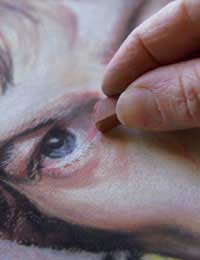 Along with a host of clichés that make up popular (particularly filmic) presentations of the artist is the image of the starving artist being taken under the wing of a wealthy and titled person, being commissioned to paint family portraits and often at a later point in their career falling out with the said patron in the quest for greater artistic integrity.
Up until a certain point in history this relationship was often central to the development of an artists career, with painters such as Velazquez and Goya (both Spanish) being able to develop their style due to their being in the constant employment of royalty for a period of their lives. Similarly the development of the Renaissance is seen to run parallel to the rise of the wealthy and powerful Medici family, patrons to significant artists such as Massacio (the first great Renaissance painter) and Michelangelo. Other important patrons that ran from the Renaissance to the Baroque period included the Church with many artists being sustained equally from Church and aristocratic/royal commissions.
Whilst patrons often demanded a lot of artists, and whilst the relationship between artist and patron at some points became fraught (as when Cardinal Carafa famously became intensely dismayed at the display of nudity in Michelangelo's 'Last Judgement': 1535-41), this can often make for interesting developments. Michelangelo originally refused to paint the ceiling of the Sistine Chapel at all (complaining that he wanted to focus upon sculpture) until Pope Julius II offered that he could paint whichever biblical figures he chose. The resulting works constitutes one of the finest religious paintings ever made.
Patrons Today
These days there are few patrons who have a far reaching influence on the arts. Whilst many wealthy persons and institutions still have a desire to own commissioned portraits and other works of art, contemporary artists themselves often concentrate on making works that do not fit within this remit. It is likely that today an artist who accepted commissions for portraits and works for private collections would take work from many different sources, relying on no one single benefactor to support them.
This offers many artists the freedom to produce the works they wish to, even though it does not afford them the economic freedom to experiment as much as they may sometimes like to.
Although the relationship between the patron and the artist does not exist as it used to, both collectors and artists can benefit from some kind of longstanding relationship, with many young artists regularly bemoaning that they are in need of a rich patron to help them along. Whilst many collectors starting off may not have the money to sustain an emerging artist in such a way, identifying developing talent and offering support can be a very rewarding experience, even if that support be advisory, or merely complimentary in the early stages.
From the artists point of view, whilst there are few genuine patrons around, funding for the arts can be sought from various arts councils and from private initiatives, such as businesses who want to hang work on their premises. In these cases it is well worth taking the initiative and approaching potential funders first hand.
You might also like...
Hello, My name is Boyea and I killing myself trying to find who will financially back my art!!! All I need is a chance to display my work and the world can decide if my art is worthy or not.
picasso
- 19-Sep-13 @ 9:08 PM