The Artist and the Collector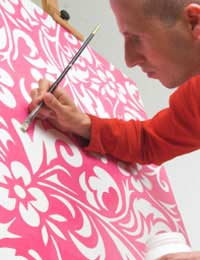 The role of the artist and the collector is possibly the least defined of all of the central roles that play a part in the art-world. The collector as such is a relatively new phenomenon with many collectors coming from non-aristocratic and often even self made backgrounds (such as D.I.Y magnate Frank Cohen). The change in social landscape over the last two to three centuries has equipped many more people with the opportunity to buy works for themselves.
Sure enough, the world's biggest collectors of art remain those who have inherited wealth, in some senses indicating that art ownership is the biggest single factor that is out of line with attempts to make art accessible to all. However, with convention not ruling the act of buying art as much as – for example – running a large gallery institution, all which is really involved in being a collector is the amassing of a number of artworks. This undoubtedly involves spending money, but that in itself need not stand in the way as long as one keeps within their manageable budget. The collecting of art is not the reserve of the very wealthy and need not be and whilst the majority of significant collected art resides under the care of a relatively small proportion of the population, it is often these people that make it possible for the wider public to enjoy art: the Courtauld Institute, established by collector Samuel Courtauld and the Wallace Collection established by Sir Richard Wallace, both in London, can be seen due only to their having been bequeathed to the public.
A Comfortable Accord
Although rumour has it that Damien Hirst does not get on personally with the collector that arguably made his name (Charles Saatchi), and although feuds between collectors apparently reside among the many inevitabilities of artist's career, the relationship between artist and collector is generally sound. What has to be borne in mind however is that this is a business relationship between two persons that may need each other but may never see entirely eye to eye. The artist is in a position of wanting to maintain their integrity as much as possible. The collector is often in the position of wishing to develop some integrity, or to experience something of the experience of the artist, without actually letting on that this is what they are trying to do. From a point of view of starting a collection, the best thing to do is to check your motives before you start – this will lessen the chances of embarrassment if you really don't know what you're looking at!
The main thing to remember is that, as a collector, all you really ought to be doing is buying works that you like. If you like the work the artist will appreciate your input and you will be able to develop a relationship with them.
There are extremes when the artist will do anything to stand at odds with the collector. This tends to derive from political associations (particularly left wing ones) and is both fairly juvenile and increasingly unfashionable even amongst left wing artists! There is little sense in a collector (certainly one that is starting out and is not likely to see many returns on their work) putting up with arrogant or awkward behaviour from an artist, and whilst the perception is often that such behaviour is a young artists prerogative, it is not! The prevailing sense in the art world is towards a less confrontational, and more business like approach between the artist and those that they work with.
ART COLLECTING IS FOR SALE.
This website is for sale [more info].
You might also like...