Outsider Art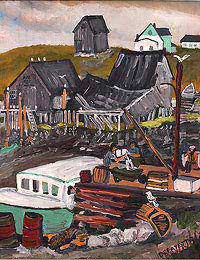 Outsider art is a term coined originally to describe art that is produced and circulated outside the mainstream art world. Derived from 'Art Brut' a term initially applied to the work of insane people by modernist painter and sculptor Jean Dubuffet (1901-1985), Outsider Art has a fairly wide application these days. In fact, Outsider Art can be used to categorise anything from the work of the 'Sunday Painter' (the amateur hobbyist who has little concern for art world conventions) to graffiti art.
Outsider art is today party to something of a contradiction, having enjoyed relative success in the form of regularly held Outsider Art fairs and even exhibitions in mainstream galleries (such as The Whitechapel Gallery, London, 2006). What begun as a fascination with the work of mental patients, who often had either no conception of – or an open disdain for – artistic convention, has become a fairly loose marketing term. Outsider art can, in this sense, be seen as just another movement that has eventually become assimilated by the mainstream. Little more evidence is needed for this other than that Tate Modern recently hosted a conference on Outsider Art, entitled 'Insider Outsider Art'!
However, stylistically the term Outsider Art generally designates work that is raw and unusual in its form, and for this reason presents a category that may appeal to many collectors. Additionally it must be borne in mind that genuine Outsider Art still exists and can be sought out relatively easily. In either case, as a category, it offers intriguing and unusual works for a relatively low price and is an ideal area to consider investing in if you personally take issue with the corporate nature of the mainstream scene.
Sourcing Outsider Art
There are many galleries (particularly in the U.S.) specialising in Outsider Art, although one may question the authenticity of such works. You may do well to source works from persons who do not maintain a wish to be considered 'Outsider Artists', but who just naturally produce works that fall far outside the creative mainstream. Doing so in a sincere manner could very well lead to the development of a fascinating and comprehensive collection. However, ideally this should not be driven by financial concerns – something that would be quite at odds with a 'pure' Outsider Art mentality.
Places to look may include exhibitions of local amateur artists, art colleges and mental institutions. When doing this though, one should take into consideration certain ethical factors. In no way should the collection of Outsider Art imply the mocking of people who may otherwise consider their art to be perfectly viable within the mainstream. Outsider Art is not a freak show side attraction, but should rather operate from the genuine appreciation of creativity unhampered by the institutionalised Fine Art mainstream.
Collecting genuine Outsider Art is one means of ensuring that such work continues to be made and artists who are not part of the mainstream (either deliberately or due to ethnicity, mental illness, or any other reason) are awarded the opportunities only normally available to a successful few chosen artists.
You might also like...