What You Need to Know About Asian Art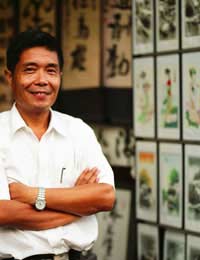 To talk about Asian art is party to some of the difficulties inherent in talking about African art– Asia does not have a 'Fine Art' tradition as such. However there is perhaps a stronger history of cross cultural exchange between Asia and Europe than between Africa and Europe, with Europeans taking on strong stylistic influences from both the Middle East and Asia over an extended period of time. It must be noted, for example, that the popularity of Buddhism (and its associated cultural forms, including calligraphic painting and martial arts) far outstrips the popularity of African spiritual forma, which remain all but unknown to the West.
Added to this is the strong belief (coming into evidence ever more quickly) that China and India will emerge as the two major industries of the 21st Century. This has led particularly to a growing interest in Chinese art, with China now hosting its own Shanghai Biennale.
Growing Interest
One result of this growing interest in contemporary Asian art is a growing knowledge of different regions and their cultural differences. For this reason it perhaps makes little sense to refer to Asian art – it being much too broad a term to cover the output of the most populated continent in the world.
Asian antiquities, which have always been popular, can easily be located, and a plethora of imitation Asian works are available through home stores. If you wish simply to buy Asian art, it will be less a question of how to locate it, and more a question of precisely what you are after. Once you have decided, the strong cultural links between the U.K. and Asia (with many cities having a strong Asian presence), should make procuring work relatively easy.
Ceramics, woodblock prints and calligraphic drawings are all popular forms of art that express something that Asian culture possesses, that we have perhaps lost. In line with Asian philosophy and spirituality, Asian art conveys calmness, and for this reason is desirable both in the home and office.
Investment in Asian Art
The economic rise of Asia offers art collectors an ideal opportunity for investment. Opening markets will benefit both owners of non Asian and Asian art, and making contacts in both India and China early could prove invaluable.
As interest in the contemporary state of these countries grows, a demand for information about a new wave of Chinese and Indian artists is inevitable. Merely possessing that information, together with the relevant contacts could ultimately place a collector in a very strong position.
A good place to start researching would be the internet, whilst a physical trip to China would not be wasted. If you do wish to enter into collecting contemporary Chinese or Indian art it is important to be sure that this is the right market for you. Once you have done this, you may find that these and other emerging markets provide a perfect source to amass a good collection as they are relatively unexploited and offer something a little different from the norm. Undoubtedly the market for contemporary Asian art will grow, though it is also likely that, along with this, the market for Asian antiques and artefacts will also grow, so if you are to add Asian works to your collection, you really do possess a lot of scope.
You might also like...