Collecting Antiquities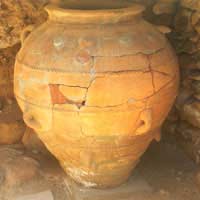 Although many antiquities will be destined by law for state collections (as the law stipulates that anyone finding certain artefacts submit them to the state in order for them to be preserved for the greater public good) many antiquities can be collected and make a great addition to a collection of artworks or curiosities (see related articles).
Antiquities have a special charm due to their age and are popular with people wishing to hold an own something that has been made and used by persons living centuries or even millennia ago.
The popularity of collecting 'antiquities' (principally speaking, objects from the 'ancient' worlds of Greece, Rome, Egypt, China and Mesopotamia, but extending much further in scope to include) began in Europe from the 16th Century, on the back of exploration and later colonial conquest. Contrary to popular belief, however, many antiquities are not the result of empire building and have been acquired fairly, and not through the pillaging of other cultures.
Antiquities on sale vary largely in price, and simple but impressive pieces can be bought for as little as £20-30, whilst more impressive pieces, such as Greek Vases may fetch tens of thousands of British Pounds.
Debates Within Antiquities Market
Some people argue that all antiquities should be held in museums, but in reality a great many antiquities are pretty menial objects, that may be of interest to the private user, yet of little value to state collections. Other people argue that a great deal of antiquities are looted and should not be bought on the open market. It is sadly true that some antiquities are obtained dishonourably, and one must be careful to watch out for, to use one example, artefacts recently looted from Iraq. However, if pieces are bought from a reputable collector an honourable lineage should be guaranteed and, therefore, there is perhaps no region why your private collection can not include pieces from ancient times.
Buying Antiquities
Anyone can be fooled by fake antiquities, even experts. It is therefore wise to go on the reputation if a dealer, with large dealers such as Sotheby's and Christie's being the most readily trusted, with the most to lose should they make a large mistake (see related articles on these auction houses). Look for a sign dignifying that your dealer is a member of the Antiquities Dealer Association (ADA). If they are the ADA will back up the dealers claim to a pieces authenticity, and investigate the claim if it is disputed.
Most good dealers will guarantee the age and provenance of a piece. If you ever find that their information has been misleading then you will therefore be able to claim the full sale price of the piece back. Your main guarantee will therefore rest in choosing the right dealer for you.
When starting off it is possible to buy fragments of pottery pieces, and other heavily decayed pieces. This is a good way into the market and allows you to suss out dealers, and what it is that you are looking for before spending any large sums of money. From there you may wish to specialise on one particular type of artefact, period or geographical category. In this way you may build up a rewarding collection whilst developing a specialist area, making it easier to enter the market later as a dealer, should you wish.
You might also like...