Contemporary Art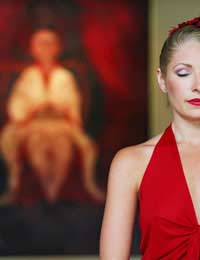 The term contemporary art is difficult to define precisely. As befits the term 'contemporary' in its general usage, it generally applies to 'new art', or that which has been produced recently. However, in some circles work going back 50 years or so will be considered contemporary, whilst in others work produced just 10-20 years ago will not be considered so.
This is really a matter of taste however, and whilst there are those that might consider 1960's minimalism (for example) to be relevant, there are others that consider only the latest art shows to be contemporary – those featuring new artworks that have opened this or last month, for example. It follows that if you are exposed routinely to an ever changing art scene, what happened ten years ago will seem pretty old hat. However, if you take a wider view of the arts, and are as at home looking at the works of the old masters as you are looking at up and coming artists, any work over the last 50 years or so may appear as 'contemporary'.
Some people argue that contemporary art refers to works of art by living artists, but this somehow seems to be an over simplistic view. To claim an artwork is no longer contemporary one day (after the artist has died), whilst the day before it was considered contemporary, seems nonsensical. Furthermore, to consider a work contemporary purely because the artist is alive seems equally over simplistic, the artwork could have been painted 70 years ago, and may have been considered dated in style even then!
Finally there are those that argue that anything that predates the advent of postmodernism, which came about in the arts anywhere between the late 1960s and early 1980s, could be considered 'contemporary', whilst anything before this period is not. For this reason, all 'modernist' artworks are consigned to history, in a clear break between the ideals that prevailed then, and those that do now. However, this is a purely theoretical debate, and further debates even rage as to whether such a thing as postmodernism really exists!
Collecting Contemporary Art
Those people who wish to collect contemporary art essentially make the statement that they are interested in an aesthetic that is 'new' rather than one that is old. From there what one chooses to buy is largely a matter of preference and budget.
Needless to say, one of the main appeals of collecting contemporary art is in seeking out new artists that are relatively (or completely) unknown. The collecting of contemporary art in this sense offers the opportunity to develop a collection that may appreciate in value over time for relatively little expense.
If this is your aim, it is well worth following Fine Art trends over a period of time and associating those trends with other popular culture developments as well as with new events. In doing this you will get a sense for the direction of the contemporary art market, which is constantly responding to events that surround it.
Predictions as to the future of the contemporary art market are hard to make even at the best of times. In the rapidly changing world we live in, the only thing we can be sure of is uncertainty! However, Saatchi's two painting shows held last year point to the resurgence of painting – a medium that looks set to remain strong in the market despite repeated premature reports of its 'death'. This confirms what a lot of painters, who defied the idea that painting was a spent force, over the last 10-20 years always suspected: people like painting and people like owning paintings. For this reason, if you choose the right paintings you will not go far wrong. Mediums such as sculpture, ceramics are often less saleable.
Additionally, changes in the worldwide economy suggest that anywhere in Europe, Russia, China or India could be the next market growth. Though this sounds a little vague, the best advice in this case may be: 'speculate to accumulate' – pick a group of artists, a market and a medium to collect and stand firmly by them, remaining vigilant always to pick up on new trends as they arise.
You might also like...