Insider Tips For Art Collecting from the Collectors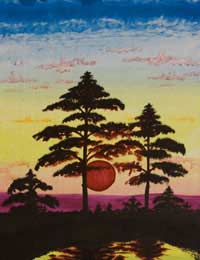 Collectors generally agree on one thing – only collect art that you generally love. To judge and collect art on any other basis makes collecting artworks completely unviable due to the costs involved and to the sheer choice that exists out there. Further, to follow fashion or to predict a perceived stylistic trend will get one nowhere in a world every conceivable style will find its supporters and detractors at any one time. For this reason there are no golden rules to collecting. However, the following guidelines can be useful.
Predicting a Market
Those trends that can be predicted concern emerging markets, and fall in line with general economic trends. Therefore it can be ascertained that the Indian and Chinese art markets will enter a boom period shortly. However, it still follows that within these markets one must only collect art they generally love and want to have around them. The benefit of predicting a rising market is that you may be able to pick up artworks that you genuinely value at low prices, saving you money in the short term and making money in the long term.
Market Diversity
However much some artists and styles come in and out of fashion the art market is so huge and diverse that buyers can always be found for quality artworks of any description. For this reason you will benefit more from developing a specialist area of expertise and by establishing a network of contacts interested in selling and buying artworks (art collectors, galleries and artists, for example). If you do this, you will not be at a loss should the market change direction in favour of another style. Genuine enthusiasts of a period or style are invaluable in this respect – avoid fickle trend-followers.
Honesty
It is a small world and honesty goes a long way. Gossip travels fast and selling works that are not up to scratch, or selling for extortionate prices will gain one a bad reputation, and may well destroy any chances of a career as an art collector. Unlike trading in stocks shares, secrecy and underhanded game-playing is not beneficial to the art collector. One collector points out that if money is what you are after you would be better off collecting something else – such as MONEY! The truth is many art lovers love art precisely for its detachment from the world of commerce, and resent people entering their world with a view to only making money. Of course, the big hitters are driven by money, but it must be noted that even the mention of certain top level art collectors meets with scathing derision from many artists and gallerists (although, in truth, they probably would sell to them given half a chance!).
Have Fun
Face it - this is probably the best advice anyone can give anyone with regard to anything. Those who get over caught up on the seriousness of art need possibly to get some perspective. Whilst genuine money is there to be made in the art world, it is not marine finance, banking, politics or international diplomacy. The image of the stuffy old English art collector or gallerist may hold true in some circles, but if you are not that way inclined just be yourself and enjoy your art works!
You might also like...