Sourcing Work at Graduate Shows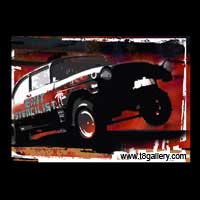 One of the main showcases for the work of emerging artists is the 'Graduate Show' or 'Degree Show' held across university campuses and galleries yearly. The graduate show is usually the final presentation after years of study for a BA or MA level student and marks the departure for many young artists from the security of the educational establishment to the wide world outside. For this reason graduates at these shows are keen to court interest and to make sales/potential clients.
Most graduate shows are held in the summer, and at this time of year many collectors and galleries tour art colleges in the hope of picking up talented artists. Most of these shows are clearly advertised in arts journals and magazines, though if you want to be left in no doubt it is possible to place yourself on the mailing list for an arts department, simply by e-mailing them or phoning them.
It has become common in recent years for graduates from outside London to take their show into London by hiring a space in a gallery, or other suitable venue, most commonly in the East End where the art scene is thriving. This clearly indicates a desire to court clients, and opening night events will often include free food and wine – an ideal opportunity to meet with young artists and possibly make a purchase.
Sourcing Quality Graduate Work
There is an ongoing belief that colleges in London tend to be better than those outside, and that a handful of these colleges are leagues ahead of the rest (a sort of Ivy League effect for art colleges). The colleges considered to be the best are: Goldsmiths College; St Martins; Chelsea College; Kingston University; The Slade (part of UCL); The Royal College of Art (postgraduate only), and the Royal Academy (also solely postgraduate).
Whilst it is true that these colleges attract considerable funding and have excellent reputations, it would be wrong to state that they are in a class of their own. Most colleges have conscientious and talented staff members that develop students' abilities so far as possible. Accordingly, where there are art colleges there will be quality artists, many of whom will be seeking the respect of galleries and collectors. A good survey of the broadest range of colleges available is, for this reason, the surest way of finding works that appeal to your individual tastes.
When you have a work that you like it is worth interacting with the artists so as to ascertain how serious an artist they are. You will benefit more from buying work from an artist that exhibits both consistency and enthusiasm, than from one that will, in all likelihood, jack in their artistic practice within two years of graduation! It should be apparent from the attitude of the student how determined they are to develop their skills. Striking a relationship with such a student has its own rewards, which go far beyond the financial gain that may be made from picking up a young artist early.
Artists, it should be cautioned, are notoriously self effacing. Young art graduates are even more so – for this reason you will do well to offer support and encouragement at this time of their career. This is something that undoubtedly won't be forgotten as they progress in their practice.
You might also like...