Displaying Your Art Collection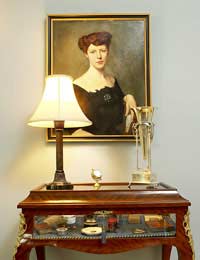 Besides the practicalities behind displaying artworks, which are covered on related articles throughout this site, there are a number of other factors to consider. Principally, these factors all come under the same guiding principle: to display a collection well involves displaying it as a collection, and not as a bunch of loosely connected but separate works.
Being able to do this lies partly in the initial acquisition of works; knowing what to buy and how it fits into your collection. This means both knowing your collection well, and knowing yourself well. If you know yourself you will ultimately finish up building a coherent collection.
Following this, the actual display of your works requires some harmony between separate pieces. If you have a genuine feeling for art then you should be able to harmonise your pieces fairly well. However, if you spend too long looking at your works you may find yourself unable to judge them adequately – either they all become a frantic jumble, or they just become meaningless; a part of the furniture.
Talking Pictures
There is a rather twee and common analysis that used to be bandied around in art classes (and possibly still is) that compared a collection of artworks to a group of people talking to each other. The point in particular here is that a collection of artworks will not 'gel' particularly well if they are not carefully positioned, and are not attuned to each other.
When placing a group of artworks you may well want to spend at least as much time considering how they should sit alongside each other as someone may spend on the seating arrangements at a wedding with guests spanning four generations, and several cultural divides! In doing this you will prevent any unsightly clashes or arguments occurring between works. You will also want to avoid a lopsided display of your works – for example too much joviality on one side of the room, and too many melancholy expressions on the other!
Though this analogy is slightly fanciful, it demonstrates at least the importance of co-coordinating your works as a group. From the point of purchase, this translates as: be careful who you make friends with – choose sensibly, because these decisions are ones that you and the rest of the collection have to live with!
When it comes to the actual display process it is worth taking time to reflect and experiment with a number of different arrangements. By doing this you will find one that clicks. The test of this will be if the works stand seamlessly alongside one another in unity, with no obvious breaks or antagonisms.
Finally, if you find this just doesn't come together, it is possible that you have not chosen your collection completely wisely. Remember, in the analogy that your collection is in conversation, you are one of the participants (in fact, the only genuine one – paintings can't think or talk in reality!). Hence knowing yourself will enable you to build a coherent collection from the point of purchase to final display.
You might also like...