Buying Over the Internet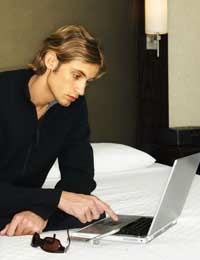 Buying art over the internet has many benefits and drawbacks that relate directly to the specific nature of this form of exchange and could be said of internet shopping in general. Additionally there are concerns relating specifically to the purchase of art: essentially they amount to one thing – you cannot adequately discern the quality and condition of an artwork over the internet, with reference only to photographs.
Before we get that far, however, it is worth considering if you want to buy over the net at all. In many instances you may prefer to go a gallery or auction preview so that you can have a good look at what you are buying, check its authenticity, dimensions (especially important if you are buying for the home), and so on.
If you do wish to buy over the net, it will generally be in order to make a purchase that you cannot make in person, due to travelling restrictions. For example, both Sotheby's and Christie's offer online auction services that are particularly useful if you wish to make a specific addition to your collection, but cannot be present at auction. With regard to buying online from major auction houses, there is - to an extent – a guarantee with regards to quality and authenticity (insofar as there is when buying in person from a reputable establishment).
When buying from a source that is unknown it is best to be vigilant against the risk that:
The work is of a poor standard
The work will be fake
The work does not exist
The work will be damaged in transit
It is also possible that you could be subject to online fraud. This is something that is virtually impossible to guarantee against. At the least, ensure that the card you are using for purchase is insured against fraud.
Benefits of Buying Online
Despite the possible drawbacks to buying over the internet, there are benefits to buying online. Aside from the obvious convenience (including the fact that you can shop for art at any time of the day or night), online purchases are often cheaper (even taking into account the cost of shipping). Genuine bargains can often be found on eBay if you have the knack for internet bidding and if you really know the market, it is possible to make a living simply by buying and selling over the net. This is a cheap and convenient way of establishing a collection that works financially for you.
Obviously some forms of art a better bought and sold over the internet than others. Jewellery, ceramics and glassware all have a reputable internet market place presence. Paintings and sculpture, however, have not followed suit. This is partially an issue revolving around size, but also one that relates to the nature of these media – the physical surface appearance of paintings and sculptures is highly variable and affects their overall appearance. Surface nuances cannot be easily discerned over the internet.
In any case, the internet is a tool that can be used effectively when building a collection and one that is likely to become a natural system of buying and selling art, alongside more traditional methods. Problems relating to buying certain types of artworks and security issues are likely to be addressed and solved over the coming years, purely because there is so much potential money to be made, should internet art sales really take off. For the time being, be aware of the risks, whilst taking advantage of the benefits.
You might also like...