Christie's Auctioneers and Art Collections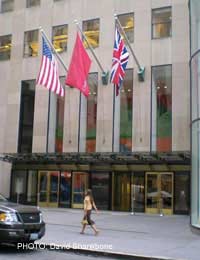 Christie's was established as an auction house in London in 1766 (where they now have auction houses in both St James' and Kensington) not long after Sotheby's and has since dominated the art market, in close tandem with Sotheby's. Christie's holds an unrivalled position as the biggest auction house purveyor of curiosities and collectibles in the world (including fine wine), and this, together with its strong hand in the Fine Art, makes it the most successful auction house financially, despite Sotheby's domination of the extreme high end of the art market.
Christie's have ridden the wave of increased art and collectibles sales in the UK, throughout the 1990s and into the new millennium. In 2006 Christie's enjoyed a 36% increase on 2005 sales, clearly setting them out as a market leader with a considerable capacity for yet further growth.
This success is due partly to their embracing of the Middle Eastern and Indian markets, with a permanent presence in both Dubai and Mumbai. They were also the first auction house to set up in China (Beijing) in 1995.
Like Sotheby's, Christie's have benefited from both an innovative approach and a high level of business acumen. Managing to weather frequent downturns in the art market has left Christie's in a very strong position now the art market is so buoyant. Their dogged adherence to the twin principles of customer service and high expertise is sure to see them continue to grow as new markets open. However, despite their market dominance, it is Sotheby's that often steal the headlines and this is perhaps due to the fascination that the public have with major art sales. Most of the biggest sales of individual works are made by Sotheby's. Christie's, it would seem, go for a more conservative approach, less concerned with the spectacle of the huge art sale. In any case, their market dominance overall looks set to continue.
Buying and Selling
Christie's offer a range of bidding services, including bids in person (for which you must register first, providing photo identification), bids via internet (whereby you register your top bid online before the auction), bids via live computer link up, and by telephone.
Though Christie's offer online bidding, they have not embraced internet style auctioning in the way that Sotheby's have. However, 'Christie's Live' allows a real time link up with the auction room, which can prove convenient, providing you are familiar with what you are bidding for.
If you are selling it is possible to contact Christie's with a view to having your pieces valued. Christie's also list online a variety of upcoming consignments, so that you can target particular pieces for sale ahead of the appropriate auction: For this and further internet services see their website
On top of these services Christie's offer real estate services, free auction estimates over the internet, Fine Art storage services and heritage and taxation advice.
Christie's Education
Christie's offer masters and bachelors degrees in both London and New York. These courses provide a strong emphasis on the study of art history and art theory, whilst shorter courses cover subjects such as Opera and wine appreciation.
Christie's look set, along with Sotheby's, to continue growth throughout the world and this is due largely to their highly professional image as well as to their willing to expand without compromising their steadfast principles and conservative image.
You might also like...
please search and support great rare art work my late father's work is rarest in this world.l.n.verma poet-artist raigarh chhattisgarh
l.n.verma
- 9-Sep-12 @ 3:00 PM