Handling Art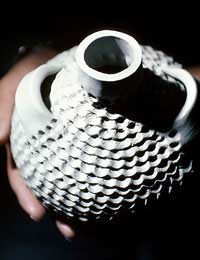 Due to the fact that most artworks are unique or come in a limited edition run, the correct handling of work is essential. If you damage a piece of work it may be lost forever, and whilst repairs can be made in some instances this will probably have a negative effect on the appearance of the work. The best policy when handling an artwork (or anything else of great value) is to always take far more precautions than you would when handling any other object of the same weight and dimensions. If you follow this simple rule you are very unlikely to damage your works.
Specific Tips
For information on the containment and transport of artworks see related articles
Shipping Art
and
Storing Art
.
How to handle an artwork will depend very much on the material it is made of. For paper, card and photographic works, for example, it is advisable to touch them as little as possible. Wear cotton gloves and clean hands regularly. Where possible do not handle paper works in extreme light conditions – light will invariably damage all paper works over time. When paper works are not being hung, it is best that they are kept in dark place permanently.
Sculptures
When handling sculpture it is important, in many cases, to seek help due to the cumbersome nature of many pieces. Some pieces may, in fact, require the help of a specialist team of art handlers, this is especially the case if your work is very old and/or fragile and this is always an option if you feel that you may otherwise endanger your artwork. Remember, it is the case with many sculptures/ceramic works that dropping them will mean their complete obliteration. This means that your route and method of handling must be carefully planned in advance.
Paintings
Paintings should be handled between more than one person if they are so large as to restrict vision in any way. There should be one person walking backwards and one person walking forwards, with a third, if possible, to clear the path of obstructions, and to open doors. Again, clean hands are important, and it is wise to clear pockets and clothing of sharp objects or protruding corners, zips, etc. Be especially careful not to touch the fascia or reverse of the painting itself: In doing so you may permanently warp the canvas.
When carrying any artworks publicly be aware of children, animals, adults, vehicles and other moving objects. You can plan as carefully as you want, but you cannot always be accountable for the actions of others, so maintain total vigilance at all times. This is where an extra pair of eyes to keep a look out can really benefit.
On the whole, the handling of artworks should be kept to a minimum. There is very little reason to move an artwork once it is in place and the tendency to touch them/interact with them should be resisted, unless they were specifically made for that purpose.
Finally, 'never work with children and animals' as the saying goes, and it is true that all persons who do not fully respect your artworks can be a liability when handling them. The key here is communication, and if you need to handle works with others or if others are in a position to handle your work, be calm and clear regarding the importance of safe handling.
You might also like...