Storing Art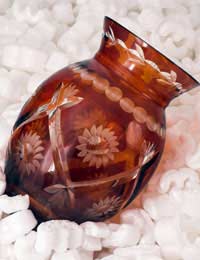 If you own art that is not on display, it is important that it is stored properly. How your work is stored will depend on the available space and the type of work that you have. However there are some simple procedures to follow:
Wrap your works carefully in bubble wrap or soft blankets, being careful as you wrap them not to disturb the surface of the artwork.
Store your works in a cool but dry and secure place which is not prone to temperature changes. Damp can have an adverse affect on artworks as can excessive cold or heat.
All three dimensional pieces can be carefully wrapped in material and then placed in an appropriately sized box with sufficient padding.
Store prints and posters laying flat between two sheets of card.
Be careful with canvases. Do not rest them against protruding features, and if storing several paintings together, stand them upright, placed in descending order of size, with cardboard placed between each piece.
Where to Store Art
Storing art can be difficult, unless you have a suitable secure room set aside at home. Problematically, garages, attics and outhouses are all unsuitable for the storage of art works due to the extreme temperature shifts and the general vulnerability of such areas.
As many of us do not have a dedicated room set aside for art storage, it is perhaps best to store work either by employing an art storage company (such as 'Art Move' of London) who will charge you for storage in units of time, and who will be able to advise on the shipping and handling of works too, or by loaning (or lending) your art to someone who will either hang it or store it for you.
The latter option has the advantage of potentially being lucrative, whilst the former will, unfortunately, cost you money. If you are just starting out and do not wish to later incur the costs relating to art storage, then it is worth thinking ahead and dedicating an area of your house to storage. This needn't be a huge area, and could, in fact be incorporated into a living space, behind cupboard doors, making your collection easily accessible. If you wish to take this approach it is well worth consulting an expert before starting.
The storage of artworks is just one front upon which the collection of artworks presents itself as more complex than the mere possession or collection of non-art objects. For this reason it is worth taking storage into account before you buy a work of art, and if you are on a budget, it may be best to restrict yourself to only buying what can easily be stored within your current means. This may well involve the collection of prints and ceramics over sculpture and large scale painting. Whilst some people may feel that this is a compromise on the dream of becoming an art collector, prints and ceramics offer a sound way to enter the art collecting market, with relatively little outlay and hassle.
You might also like...