Shipping Your Art Work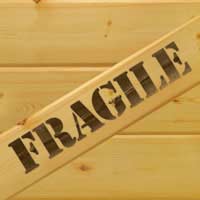 It may be necessary to have your work professionally shipped (or transported) from its purchase and this is something worth considering when buying artworks (though the outlet you make a purchase from should be able to advise upon this). Other than this you may wish to ship work if you are loaning it, storing it, exhibiting it or selling it. In all of these cases it may not be necessary to bear the cost of transport yourself, but if the work is leaving your care, you will at least need to make sure that it leaves in good hands.
Professional Shipping
It is relatively easy to find a professional art shipper, and if you own an artwork at all, information on shipping should be close at hand – all galleries and most artists ship works regularly.
Though you can ship works alone, if you have delicate paintings, sculptures, or large works, it is well worth arranging professional shipment of your works. Remember, if you are shipping abroad, your work may well be placed in common containment with numerous other items, and for this reason it is essential that it is handled and packaged correctly before shipment.
Before you arrange for a shipper to package and transport your work, it is a good idea to make sure that your works are insured under your home contents (or business) insurance. Though shippers will arrange insurance, it will usually be at a high cost.
Transporting Works Yourself
If you are required to move an artwork only a short distance you can possibly transport it yourself, providing you have the means. Essentially, moving artworks is a complete damage limitation exercise. As with many things, anything that can go wrong will go wrong, if you are not well prepared. Unfortunately, in the case of artworks this can involve the instant destruction of something highly valuable and much cherished.
From the literal handling of the work at one end (including securing it in your chosen vehicle), to the removal from the vehicle and depositing of the work at the other end, all possible risks must be avoided. This entails everything from wearing cotton gloves when handling works, to ensuring that the work is adequately padded (and boxed if it's a sculpture) to making sure your shoe laces are tied up, and that you have a clear line of vision when walking with your work. As for the packaging of works, securing and padding is everything. If at all possible secure your work to a high side of your vehicle using ties that are not over abrasive. Having a second person help you may be useful, especially as they can attend to works during transit, should any disruption occur. As a rule, a professional art handling company would never have cumbersome or heavy works moved by just one person, on health and safety grounds.
If you are sure that you can move your piece without damaging it, then feel free to move it, making sure first that you are insured as adequately as you would be if someone else were doing it for you. Small works, prints and ceramics are the cheapest and easiest to transport, and this is something that may be worth considering when you are starting a collection.
You might also like...