Building a Collection with Nothing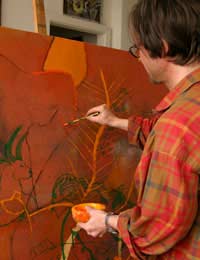 It is possible to begin to build an art collection with no or very little money. This is especially possible if you have good art contacts. All it requires is a little ingenuity, and before long you could be on your way to having an art collection of your own.
The Art of Blagging a Collection
Many artists struggle so much in their early careers that it is not uncommon for them to try to pay for goods ands services with artworks. This often ends with a sorry rejection, and them running up a debt with their landlord. However, if you know an artist who may need your services, you may well be able to bag a bargain artwork in return for them. For example, It is a classic cliché that artists can't write. Offering artists writing services for C.V's personal statements or promotional texts is one way that you may be able to earn a small artwork.
Another common trick involves swapping artworks direct. This is possible if you yourself are an artist, or if you already own an artwork. Students at art college are particularly keen to exchange artworks in this way, so this may be an ideal to get hold of an artwork early in someone's career.
Building a collection thorough a mixture of blagging and bartering can proceed relatively easily in this way. Once you have a few artworks you are ready to enter the market. Remember however that if you have little money it is best to buy only at the cheapest you can possibly buy, and sell only at the highest. If you have been lucky enough to blag an artwork for free that you later feel may be worth something, wait until you can be assured of a sale, and be sure to exploit the positive reasons why it is a good thing to buy from you and not from an established gallery: For example, you do not have to give the artist or gallery a percentage of the cost, meaning that you can undercut both the artists and their gallery. Be sure when selling to also hype up the relationship that you have with the artist – this gives you a story that the buyer can later pass on around the dinner table and at parties, etc!
Remember that even if you are lucky enough to start to make cash from selling artworks, that it pays to still stay on the lookout for cheap works wherever possible. Doing this will enable you to maximise profit. After a while you will be able to buy cheaply (or obtain for free) works to sell on at an appropriate time, whilst massing more expensive works for your long term and permanent collection.
Collecting in this way demands a real knowledge of the art scene, a personable character and a lot of patience. Insider knowledge, and a personal working knowledge of the arts will be a great help, as it will make you more approachable and more trusted – no one wants to feel ripped off, and neither should they feel that way!
You might also like...