Selling Art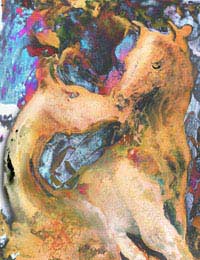 There are numerous ways of physically selling a piece of art, ranging from sales direct to an admirer of the artwork, to selling to a gallery, auction house, or via the internet. In all of these cases the exact process is different, and where these processes require specific knowledge there are related articles on on this site to help guide you through the maze.
Fundamentally, however, the process of selling artworks depends on a few factors that go beyond the mere practicalities. Mastering these factors will make you a successful collector.
Making Decisions
Being an art collector, rather than being just someone who happens to own a few artworks, is a professional pastime. It involves making decisions that will impact upon your quality of life as well as upon your finances. You will be required to make decisions that will sometimes involve sacrifices (of artworks, or in other areas of your life/spending).
Deciding to sell an artwork can be both the easiest and hardest thing to do. It can be all too easy, because a moment of financial strife could lead you part with a piece in order to stay afloat. It can also be very hard for the same reason: years later you may regret that sale.
The best policy is only to sell in order to afford the purchase and/or space for a more valuable acquisition to be made. If you find yourself selling to pay your debts/afford to eat, you seriously need to assess your finances before moving on.
Budgeting
If you budget well, you will only need to sell to make a profit and will only ever do that with works that you not longer feel essential to your collection. With
loan purchasing schemes
in place it is possible to budget sensibly and to get help making purchases at trickier financial times of year (in the run up to the winter break, for example). This allows you to sell off artworks with confidence, and only when you are guaranteed a good profit.
Riding the Storms (and the Waves)
Many auction houses have benefited from being able to weather economically difficult periods. During periods of recession luxury goods such as artworks tend to suffer first, and for the longest. For this reason one has to be very careful in choosing what to buy and sell. If you are frugal but still prepared to take risks you may pick up bargains as other people panic-sell in order to stay afloat.
Equally during economic booms it is important to ride the wave of success with a clear head. Although we live in a booming economy, recent (as of March 2007) stock market slumps in China, the U.S. and Europe beckon caution. It is always wise to keep something aside in case there is a major change in fortunes. Look at it this way: if in a time of economic boom you spend all your riches on art, when the downturn comes, you'll have to sell it all again… and this is where your rivals will punish you and buy for less than they sold the works to you!
Equally, even selling during an economic boom should be carefully considered. An effective collection needs to be well rounded and not just as lavish and wide ranging as possible. In order for your collection to grow, sales are necessary and if you are in a strong position financially, you may wish to sell for less than normal in order to establish good contacts, or as a part of a deal leading to the acquisition of a particular work.
Taking all of the above into account, it can be seen that selling is intrinsic to buying, and not just something one does to free up room in the garage/to make an extra buck or two! Understanding this relationship is essential to developing as a collector.
Pricing
Finally, as regards pricing, simply don't sell for anything less than you can afford to. If one person won't buy a work at a certain price, there is a strong possibility that someone else will.
You might also like...