Ideal Environment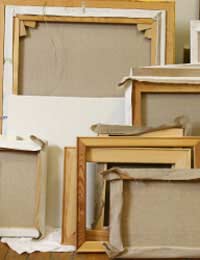 There are many factors to consider when choosing the ideal environment for your artworks. The nature of the work itself will dictate to some extent its ultimate situation – some works being made specifically for outdoor display some requiring special temperate conditions due to frailty, and so on. If in doubt it is worth asking the dealer, the artist, or an independent expert (such as a Fine Art conservator) for advice.
Factors Specific to Your Space
If you are collecting for the home there will be factors to consider relative to your home environment. For example, rooms prone to damp should not be used to house artworks, whilst security issues should be resolves before you have any intention of obtaining works for display.
Floor pieces, such as sculptures, will take up valuable space and can be a liability if you have very young children or visitors. Factors such as these are fairly common sense, as with the storage of any household object. However, it is worth remembering that artworks are often not repairable and rarely ever replaceable and for this reason special caution and respect should be exercised in relation to artworks.
If you, for any reason, do not wish to display works in the home and do not have a separate space, it is possible to keep your work with a reputable storage company (see related article) or to donate your work (or even loan it if it is sought after) to a gallery providing they have adequate provisions to house them.
If you have a gallery or gallery contacts, it is possible to have your work on display much of the time. This, to be sure, will involve storage and shipping costs, but will be a good opportunity to profit from the sale of artworks, should you wish to. In the event that you wish to exhibit your works in a gallery, be sure to read the small-print first – many galleries will charge a hefty commission for the sale of artworks.
Your own gallery (for the serious collector only) should ideally have some form of storage space accounted for, so that you can rotate works and also display works from other peoples collections, and by emerging artists. Here location is everything, and you would do well to keep an eye on the art market in the area you wish to set up a gallery for a while before choosing a new space.
Choosing a Space
If you wish to choose a space or renovate an existing space, your primary concern should be maximising space and light, whilst minimising extremes of temperature. If looking for a new space you should be able to get a feel for this by viewing several different buildings. If you are renovating an existing space it is well worth increasing natural daylight through the expansion of existing window space, removing unnecessary walls and built in storage, and painting the room white.Whether you choose to hold your works at home or in a separate gallery or storage space, the space you choose is as essential as the artworks you buy. Starting an art collection is a major consideration and the space the works are shown in will have a major impact on their reception.
You might also like...