Arts Council Loans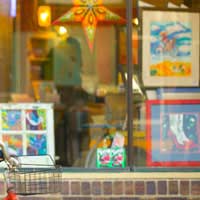 In order to encourage the already booming art market in England, the Arts Council of England offer loans for between £100 and £2,000 under their 'Own Art' scheme. Under the scheme you can buy anything from painting, sculpture, prints and photography, to jewellery and furniture, from any one of 250+ participating outlets in England.
Participating galleries are evenly spread across England and represent a diverse range of some of the best art currently on offer by both U.K., European and International artists.
How to Own Art
Under the 'Own Art' scheme it is possible to go into a participating outlet or gallery, details of which can be found on the
Arts Council of England
website and simply choose any piece of work that you want (within a £100-2,000 price bracket). From there members of staff will help you to fill out the necessary paperwork, provided that you have proof of identification (a passport or driving licence and proof of address, such as a utility bill) and will then offer you an interest free loan, subject to credit status, which will be payable by direct debit.
Benefits of 'Own Art'
The Own Art scheme enables customers who may not usually buy art to start a collection, safe in the knowledge that repayments can be paid back at an affordable rate and spread over a reasonable period of time. This leads to a situation where the gallery visitor often views their experience very differently: existing art collectors may choose their purchases more freely, being able to buy throughout the year, whilst new collectors will feel more liable to make a purchase, without feeling hesitant about approaching staff.
On completion of paying off one loan under the scheme, purchasers, reportedly, are more inclined to make further purchases, often travelling further afield than they normally would, in order to investigate new outlets that operate the 'Own Art' service. This opens up possibilities for new collectors, whilst also crossing provincial divides, which often benefit, cities in the Central and Southern England over other areas in Britain.
Under the Own Art scheme it is possible to own more than one piece of art, so long as the total that you borrow does not exceed £2,000. It is also possible to spread your acquisitions under the scheme across several galleries.
Art pieces over the value of £2,000 may be purchased under the scheme, but the credit that you may borrow can not exceed £2,000.
It is possible to commission artworks from artists you like under the Own Art scheme, and some galleries will help you to do this, provided that the artist is open to commissions.
Scotland and Wales
The Scottish Arts Council also operates the 'Own Art' scheme, with the same provisions as the Arts Council of England.
The Arts Council of Wales offer a similar scheme available called the 'Principality Collector plan' and can be used to purchase artworks from £50 to £2,000 in value from up to 70 different Welsh galleries and outlets.
Schemes such as these are set to ignite an already very buoyant market, and are an ideal way of starting a home collection, or subsidising an existing collection.
You might also like...