How To Find Affordable Art For Your Art Collection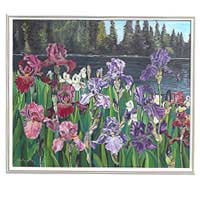 Affordable art is a category which is very subjective. How affordable art is, depends very much on who is buying, as what is affordable for some is not for others. However as a rule of thumb affordable art is seen as art sold at up to £2,000-£3,000.
Clearly many people wishing to own art are not capable of spending that much even, and luckily there really is no need to. Both affordable art fairs and art galleries offer works that need not set you back more than a few hundred pounds (quite often less).
Art Colleges, Graduate Shows and Internet GalleriesVisits to art colleges, graduate show and studios are valuable ways of picking up art from as little as £50, and will generally be cheaper than buying from an art gallery, as you will be able to make a purchase at source - therefore cutting out the middleman. There has also been a recent rise in popularity of Internet galleries. Good quality online galleries will offer the buyer enhanced buying protection by adhering to the Safebuy code of practice which gives 14 days no-quibble returns and secure online payment facilities. This allows clients to try the artwork in their home safe in the knowledge that if they then discover it was an impulse buy, or does not find its own place in their home, then they can return the artwork for a full refund.
Contrary to what anyone may tell you, great art really can be sourced at any price. For art, much like wine, price does not necessarily denote quality, and a cheap artwork can easily hold its own against a more expensive one.
The Affordable Art Fair
The 'Affordable Art Fair', which is held regularly in London and Bristol, cites 'affordable art' as art that is priced at less than £3,000. The Spring Affordable Art Fair, will feature over 120 art galleries all selling work within the 'affordable' price range, many of which will fall way below the £3,000 price cap, and some of which will partake in the Arts Council Loan Scheme
Own Art
. The Affordable Art Fair also hosts an autumn fair in Battersea, which will feature a selection of art by recent graduates alongside other artists. 2007 will also see further events held in New York, Melbourne and Sydney.
The popularity of The Affordable Art Fair (which is in fact a trademark and not merely a generic term) has spawned many other 'affordable art' events run by artists, curators and art galleries. This together with the Arts Council loan scheme has raised awareness of the importance of marketing quality art for a reasonable price. It is hoped that this will have a knock on effect on an already buoyant market, even sustaining it through lulls in the economy.
For the art collector affordable art offers the opportunity to buy high quality work without necessarily relying purely on the work of recent graduates and other unknown artists. The demand for affordable art has in the last few years spurred artists and art galleries on, to make prints and other cheaper works more readily available. Affordable art in this sense need not even involve buying art purely from unestablished or recently established artists. Prints and ceramics from masters such as Picasso sometimes fall within the affordable art remit. Whilst these pieces are not as valuable as more significant works, they should appreciate in value in accordance with the market value for that artist. There are very genuine possibilities out there for those who want to own great works at reasonable prices, whilst making an investment.
You might also like...