UK Art Galleries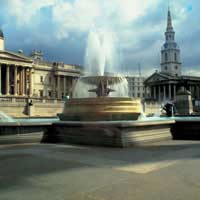 The U.K. has a large and successful gallery scene housing some of the best works from around the world, and dating from antiquity to the present day. Whilst many of these galleries will not house works for sale, the show they put on, and the permanent display that they house are indicative of the shape of the art scene, both as attitudes towards old works change, and new works and styles develop.
The Shape of the Gallery Scene
The U.K. art world is dominated by just a few major galleries – what they exhibit has a trickle down effect often governing the direction of conversation and debate across the U.K. – and even international – art scene. Some of these galleries have been in activity for hundreds of years (such as the National Gallery, London), whilst some the most influential galleries have emerged relatively recently (such as Jay Joplin's White Cube and The Saatchi Gallery).
It is perhaps possible to view the art world as operating on several different tiers, from the very top, which is dominated in any country by generally one modern and contemporary art gallery (in the U.K, Tate Modern) and one gallery holding a selection going back several centuries (The National Gallery and The National Gallery of Scotland). Aside from this there are major regional galleries, such as Tate St. Ives, Tate Liverpool, and the Baltic Gallery, Newcastle, that aim to focus the art scene in a particular area.
As well as these, are major antiquities museums, which have a constant, but fluctuating influence on artists, such as The British Museum, and The V and A museum. Galleries such as the White cube, the Victoria Miro gallery and many more hold terrific sway since the boom in the London art market in the 1990s. These galleries are followed by tens of trendy East End Galleries, many of whom have stolen the limelight from small collector focused galleries in the West End (though there are still many of these that are worth a look, with an impressive clientele and base of artists). These galleries are often commercial and should be an early port of call for an aspiring collector. Following this there are successful and influential galleries in cities across the U.K, commercial and public, many of which suffer as a result of the 'London-centric' nature of the art world, but many of whom are beginning to enjoy increased wealth and attention due to the buoyancy of the art market and the growing confidence of many British regions, some with newly acquired legislative powers.
From a point of view of maintaining awareness of both art's history, and of current events in the art scene, a survey of just a handful of major galleries may well suffice, whilst building up contacts with smaller galleries can help you to build a collection and observe developments on a more grass roots level. You will find in this way that many emerging artists respond naturally to the bulk of what is exhibited in major institutions by directly referencing art's history, or by maintaining a stance that is either openly hostile, or merely indifferent to the dominance of major institutions in the art world. The way in which artists respond to art as an institution (embodied by the major gallery exhibition) is central to an understanding of both Modern and Postmodern art.
A look at galleries and the development of links with galleries of all sizes should enable you to get a better feel for the arts scene, whilst gallery staff may well be able to point you in the right direction in order that you may start or further develop your own collection. See below a list of major galleries, with contact details:
Major Galleries
Barbican Art Gallery
Level 3, Barbican Centre
Silk Street
London
EC2Y 8DS
www.barbican.org.uk
Hayward Gallery
Belvedere Road
Southwark
London
SE1 8XX
www.hayward.org.uk
Saatchi Gallery
County Hall
South Bank
London
SE1 7PB
www.saatchi-gallery.co.uk
Tate Britain
Millbank
London SW1P 4RG
www.tate.org.uk/britain
Tate Modern
Banside
London
SE1 9TG
www.tate.org.uk/modern
The Courtauld Institute
Somerset House
Strand
Westminster
London
WC2R 0RN
www.courtauld.ac.uk/gallery/index.html
The National Gallery
Trafalgar Square
London
WC2N 5DN
www.nationalgallery.org.uk
The Royal Academy of Arts
Burlington House
Piccadilly
London
W1J 0BD
www.royalacademy.org.uk
Rest of England
Ashmolean Museum
Beaumont Street
Oxford
0X1 2PH
www.ashmol.ox.ac.uk
Baltic
Centre for Contemporary Art
Gateshead Quays
Southshore Road
Gateshead
NE8 3BA
www.balticmill.com
Del a Warr Pavilion
Marina
Bexhill On Sea
East Sussex
TN40 1DP
www.dlwp.com
Modern Art Oxford
30 Pembroke Street
London
0X1 1BP
www.modernartoxford.org.uk
Tate Liverpool
Albert Dock
Liverpool
L3 4BB
www.tate.org.uk/liverpool
Tate St Ives
Porthmeor Beach
St Ives
Cornwall
TR26 1TG
Wales
St Donats Art Centre
St Donats Castle
Vale of Glamorgan
Wales
CF61 1WF
www.stdonats.com
National Museum Cardiff
Cathays Park
Cardiff
Cf10 3NP
www.nationalmuseumwales.ac.uk
Scotland
National Gallery of Scotland
The Mound
Edinburgh
Scotland
EH2 2EL
www.natgalscot.ac.uk
Royal Scottish Academy Building
The Mound
Edinburgh
Scotland
EH2 2EL
www.natgalscot.ac.uk
Scottish National portrait gallery
1 Queen Street
Edinburgh
Scotland
EH2 1JD
Scottish National Gallery of Modern Art
74 Belford rd
Edinburgh
Scotland
EH4 3DR
www.natgalscot.ac.uk
Contemporary Art Galleries
ICA
Nash House,
The Mall,
London
SW1Y 5A
www.ica.org.uk
Modern Art
10 Vyner St,
London
E2 9DG
www.whitechapel.org
South London Gallery
65 Peckham Rd,
London
SE5 8UH
www.southlondongallery.org
Vilma Gold
25 Vyner St,
London
E2 9DG
www.vilmagold.com
White Cube
48 Hoxton Square,
London
www.whitecube.com
Whitechapel
Whitechapel High St,
London
E1 7QX
www.whitechapel.org
You might also like...