Looking At Art in the Major Galleries of Europe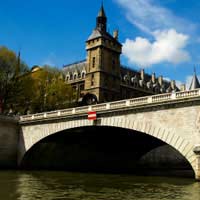 Technically art is a European invention. This is not to say that peoples outside Europe do not make craft pieces and – indeed – artworks that are equal to those made in Europe. Rather, it is to say, that art as we know it, free from its obligation to spirituality, religion, or the state, originally developed in Europe along with the development of 'Enlightenment' thinking and the subsequent birth of Modernism. The simultaneous development of the 'Nation-State' led to the proud claiming of the superiority of one nation's art over another's, which in turn led to the development of huge municipal city centres as grand gestures of a nations power and cultural prowess.
The state art gallery was to be at the centre of a nations claim to superiority, and consequently it has emerged that every capital city and most major cities besides (in Europe) have at least one major art collection on display – and, usually, several.
Despite the collapse of the Empire, an opening of global markets and a close relationship between many European members of the European Union, cultural rivalry continues, with cities all over Europe developing and expanding art collections.
Provincial Collections
Whilst large collections in capital cities develop, and Europe amalgamates into one political body, many regions assert their autonomy both from the nation state they belong to and Europe, by developing galleries to reflect their cultural awareness. The Guggenheim Museum in Bilbao, where the Basque population dispute their Spanish leadership, and the Baltic Arts Centre in Gateshead, which acts as a catalyst to cultural rejuvenation in this deprived area are two examples of this.
Major Galleries
There are major galleries in Europe far too innumerable to mention, both in provinces and in capital cities: The Louvres, The Pompidou (Paris) Musee d 'Orsay, The Guggenheim (Bilbao), The Prado (Madrid), Rijksmuseum, Van Gogh Museum (Amsterdam), too name but a few from only four cities. These are possibly the largest and most notable in Central and Western Europe, but there are many more besides even in these cities which have outstanding collections and reputations.
Smaller Galleries and Emerging Markets
Throughout Europe there are small independent galleries to look out for, and to miss them would be to miss a major opportunity: prices are generally much cheaper in Europe than in the U.K. and if you are looking for antiquities or something to hang on your wall (that will not necessarily appreciate in value, other than the increase in price you could command purely from resale in the U.K.), then it is well worth looking to the Antique and print markets of Rouen, France, for example.
The new Eastern Europe offers up an emerging market that will both be keen to sell to the U.K. and to buy from it. This provides a perfect opportunity for an aspiring collector to visit the galleries of Tallin (Estonia), Riga (Latvia) and Vilnius (Lithuania). Amongst other cities in ex-Soviet Europe and in the ex-Yugoslav states in order to check out fresh talent and offer up yourself as a point of contact in the U.K.
Europe, which has been the centre of the art world since art emerged out of iconography, offers the perfect place to get a good grounding in the history of the arts, whilst keeping an eye on developing artists and markets. Interestingly the art scene has migrated many times in its short history, being at times variously based in fashionable cities such as Florence, Barcelona, Paris, New York (an art scene partly populated by European immigrants, self exiled after World War Two), London, and many besides.
The movement of the art scene often reflects simple economics, and usually flourishes in areas which offer both cheap rent for artists and a steady flow of collectors able to afford their works. In light of this it is looking likely that the art scene will migrate from London to Berlin, for example, where these conditions already exist, or in the flourishing Eastern European markets – Europe's biggest financial growth area.
Maintaining awareness of the stability of art markets and of those which are up and coming could ultimately mark the difference between you and other collectors, should you wish to pursue art collecting as an investment.
You might also like...