Visiting Art Galleries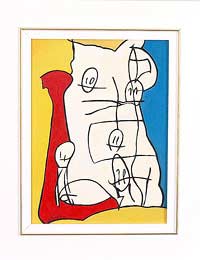 Visiting art galleries is central to a good understanding and appreciation of the arts. By looking at works in local, national and international museums it is possible to discern the relationship between different artists and different periods in the history of artistic production.
Many galleries have their collections hung either chronologically, or according to the nationality of the artist. Some hang work according to nationality and chronology. The only major gallery to have ever broken with this trend is the Tate Modern, who, when they opened in May 2001 had their work displayed thematically – one floor was concerned with the 'object' in art, whilst another was concerned with the 'nude', and so on. In any case, the display of works serves to lead the viewer around the gallery in such a way as to gain a greater understanding of artworks in their true context.
Ways of Looking
Galleries often offer guided tours of collections, or short talks that relate to specific artworks. Attending these tours and talks is an ideal way of getting to know an artwork or collection better. Galleries also publish guides to their permanent collections and to their temporary shows which can be a good accompaniment to any art excursion.
One way to get a good feel for artworks and periods in the history of art is to ascertain why certain works are hung in groupings (together in the same room). It is possible that by looking at them you will be able to identify similarities in style and subject matter. For example, in a room dedicated to 19th Century French painting, you will notice a style heavy with flamboyant, brightly coloured brush strokes. This is a characteristic of Impressionism, which was concerned with the 'impressions' of light upon nature. This in itself accords with an interest in science, particularly the way in which light affects the eye, and is then interpreted by the brain – something very much in keeping with the late Enlightenment period fascination with science and psychology. Looking to other rooms you will be able to make different associations, which will enable you, eventually, to conceive of a thread of history running through the development of art and iconography.
Another way to look at painting is simply to enter a particular room in a gallery and spend some time deciding which painting most strikes you. Following this you can develop justifications for your choice: are you drawn to the colour; the tone; the thematic material? It is a good idea to carry out this exercise with other people, each of you choosing a painting to discuss. This can help you to develop your critical awareness, and ability to reason your judgements.
One other way of looking at art in a gallery, and one quite different from those mentioned above, is to simply enter a room and make a beeline for the piece you most like. Don't read the literature; don't attempt to contextualise your judgement, just make an instinctual choice. In doing this you may notice a pattern emerging in those pieces you gravitate to. You may wish to do this occasionally to break away from logical perceptions of artworks, and to experience a more direct 'communication' with them. In conjunction with more logical ways of viewing works this will help to give you a fully rounded appreciation of art.
Finally, keeping a notebook or sketchbook can be useful in recording your experiences of the gallery environment as they occur. You may find that these experiences change over time, and a recorded history of them will help you to chart your own changing opinions.
Practicalities
There are many publications, both regional and national that list gallery exhibitions. Most notable among these are The Guardian, Timeout (for London listings) and the free 'New Exhibitions' guide (available at many galleries).
Whilst many galleries charge an entrance fee for temporary collections, there are concessions often available for students, OAP's and sometimes unemployed persons. There are also a great many galleries that do not charge for entry, and most will state their fees in listings adverts or on their internet site.
You might also like...