Art And The Media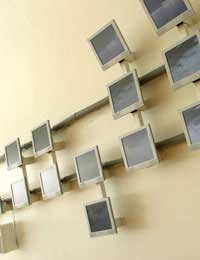 Art enjoys a complex relationship with the media for the very reason that it is at times difficult to see where art finishes and the media starts. The media is essentially comprised of different creative pursuits – writing, television production, drama, design, and so on. Art meanwhile is often found in the position of playing the role of the media – informing, entertaining and promoting itself.
Despite the crossover between art and the media, it is clear that they occupy fundamentally different roles, with art purporting to be a free and independent communicator, and the media being motivated primarily by financial interests. For this reason there is a traditional antipathy between the media and the art world, with both often looking as if they are seeking to depose the other. However, this really is largely for show these days and clearly the many of the newspapers that condemn art as pointless and wasteful are owned by the same media giants who promote appreciation of the arts.
Where Are There Art and Media Confrontations?
There was a time when much of the mainstream media was openly hostile to art, often questioning the large amounts of money spent on it by national museums. Perhaps the most famous incident of hostility towards an artwork arose after the Tate (then housed solely where Tate Britain now resides, in Millbank) acquired 'Equivalent VIII' by artist Carl Andre – a piece comprised solely of 120 bricks arranged in a series of rectangles. The papers at the time (along with the television news) bitterly complained that tax payers' money had been wasted on what were ordinary building materials, sold at a grossly inflated price to the museum.
Of course, scandals such as this, which were at one time regular, serve to play on an existing suspicion of the arts, whilst also making the public, who in this case appeared to lag some 60-70 years behind the advance of Art History (common objects having been accepted as artworks since Duchamp first conceived of the 'ready-made' artwork) appear as extremely ignorant.
Scandals such as these perhaps serve to benefit both the art world, including art galleries and museums, and the media world, both selling papers, whilst also further cementing cultural divides, thus further defining two broad potential customer markets – those that are interested in art and museums, and those that are openly antipathetic towards it. This is to take a rather cynical view, yet one that appears to hold true until recently.
It seems nowadays that the arts and the media are increasingly aware of their similarities and, therefore, are more liable to work together to peddle art, which is something with mass appeal, and not something with which to fan the flames of what are – arguably – obsolete class divides.
Artists are ever more reliant on their media image, whilst the media becomes constantly slicker and more akin to art in its production. This is something that, to an extent, has been aided by the development of the internet which offers the freedom for artists to sell themselves through a form of new media entertainment (with sites such as MySpace), but has been helped by the superstar credibility of artists such as Damien Hirst, acclaimed by both museums and art galleries. Now that artists have access to the media more easily, and the media sees art as a viable story-spinner (and for all the right reasons), arts and the media gel far more serenely than ever before. Large art galleries all have a dedicated media person, or persons, whilst the cultural section of most papers and televised new programmes expands year upon year. For a collector this is good news as it makes it easier to stay in touch with happenings, whilst it also broadens the art audience, making investment worthwhile.
You might also like...