Top Curators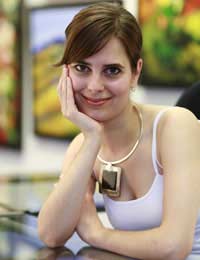 A curator of an art exhibition has a very broadly defined role that in many senses may be otherwise termed 'manager' because curating really does entail managing and overseeing a wide aspect of the organisation of an arts exhibition, though many top curators could be compared to cultural theorists, or indeed, artists.
Duties of the Curator
A curator, who will often be affiliated with a gallery (although it is increasingly common for a curator to be freelance), will choose themes for a show and organise a theoretical slant which will provide the backbone for the exhibition. This will either be in response to the work of exhibiting artists, or will be decided in advance, with artists possibly applying for positions to exhibit around that theme. The collector may then organise writers to contribute to a catalogue of the works, and stand at the top of the chain of command organising the handling and transport and arrangement of works, payment of artists, promotion and general PR and education (including opening events, lectures etc.). Many of these jobs will be delegated, though this will depend on available human resources.
The Contemporary Curator
The contemporary curator is notable for an often almost artistic approach to the gallery environment. Blurring the lines between curator and artist, the curator will often assemble works in such a way as to make them almost materials in their own hands.
Additionally, the curator will often have exceptional theoretical knowledge, allowing them to channel the artists work in a way far beyond the control of the artist, who might not be as fluent in their understanding of art theory and art history. This has made for the development of a kind of 'Super-Curator' who may well hold the key influence in the art world. Many of these curators, such as Victoria Miro and Maureen Paly run galleries named after themselves, signalling their desire to stamp their names on the work that they exhibit, despite their having had no hand in the initial artistic process. In a way, this seems in no way perverse, as the exhibition clearly owes as much to them as to the artists involved. This is a view that many people take for granted.
Despite this however, the power of top curators has come into question by some artists who feel that the curator is an extension of the gallery, and a further means of the art establishment exploiting the artist and misleading the public by placing unnecessary restrictions on art. Arguably, freedom of speech is lost as curators and collectors (many of whom hold a curatorial role of sorts, due to their huge influence) dominate the art scene. In a sense, collectors such as Saatchi hold a curatorial position which extends far beyond the gallery walls, enabling him to influence cultural debate across continents. This could be a bad thing for choice, along with curatorial programmes which often confuse both the artist and the public. However, it must be conceded that as entry level curatorial positions are often badly paid, most curators work for the love of their job and many, to be fair, hold social concerns as the one of the main factors governing their creative choices.
Whilst undoubtedly, the are a breed of Super Curators, partly influenced by the late Harold Szeeman, envisage the role of the curator as much larger than that of a mere administrator, there are also a number of artist-curators who operate in networks to form group exhibitions. In a sense this outweighs the influence of the larger curators, East London, for example being split in the middle between more corporate shows curated by big names such as Jay Joplin, and smaller, artist run projects.
There is no doubt that a stand off between powerful curators, who assume the role of both artist and theorist, and artists themselves is set to continue, yet this may be no bad thing. What will emerge will, in all likelihood, be all the better for having experienced the debate and confrontation bought about by the emergence of such powerful interests in the art world. As a collector starting off, an awareness of these issues may better help you to contextualise the work and exhibitions that you see.
You might also like...